Fighting Scale the Effective Way
Anti-Scale Systems



What is Anti-Scale Systems?
It's to remove scale-forming calcium and magnesium that often accompany hardness and scaling problems.
For instance, the tap water hardness of Hsinchu Science Park, Taiwan ranges 120~130 PPM, about 250 μs/cm conductivity. When it use in Cooling Water, the hardness will soon concentrate to over 500 PPM after evaporation, over 1300 μs/cm conductivity.
Water hardness above 200 PPM is when scale forms severely during heat exchange.
Installing Deionized Anti-Scale Systems before Cooling Tower can produce high-quality make-up water for Cooling Tower, which in control of under 5 PPM hardness. Cooling Water concentration times increase over 10, water discharge as conductivity rise to 2500 μs/cm.
Under the circumstances, water hardness is still below 100 PPM.
With our Anti-Scale Systems, you can conveniently prevent scale and reach your goal of water and power saving by reducing water discharge.

What benefits can you get?
Let's start with some calculations with a 1000 RT Water-Cooled Chillers, running 24 hours a day, 365 days a year.

【Power Consumption in Different Conditions】
・New machine: 0.6 kWh/RT
・Scale-forming: 0.7~0.75 kWh/RT
・High-quality water treatment: 0.63 kWh/RT in a long-term maintenance

【Power Consumption Calculations】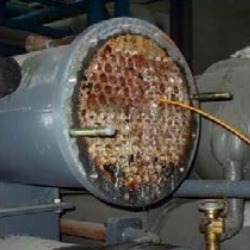 Scale-forming Condition
1000 RT x 24 HR/D x 365 D/YR x 60% Average Load x 0.75 kWh/RT
= 3,942,000 kWh/YR x 0.083 USD/kWh
= 327,186 USD/YR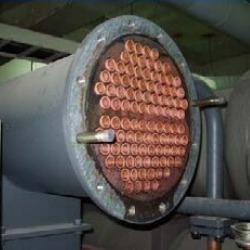 High-quality Water Treatment Condition
1000 RT x 24 HR/D x 365 D/YR x 60% Average Load x 0.63 kWh/RT
= 3,311,280 kWh/YR x 0.083 USD/kWh
= 274,836.24 USD/YR
327,186 USD/YR - 274,836.24 USD/YR = 52,349.76 USD/YR
Applying our high-quality water treatment, you can get at least USD 52 thousand power saving a year.



*Calculate in exchange rate NTD 30 = USD 1
Quotation will refer to the current exchange rate and customer needs for equipment.
Other Remarkable Projects
JENG DA ENGINEERING has been dedicating to researching and developing water treatment technologies. We excel at holistic solutions for Anti-Scale Systems for Cooling Water to meet your needs across industries in every region of the world.
Industries: Optoelectronics, foundry, electricity, pharmaceutical companies, etc.
◆ Taitung Domestic Airport - Anti-Scale Systems for Cooling Water Treatment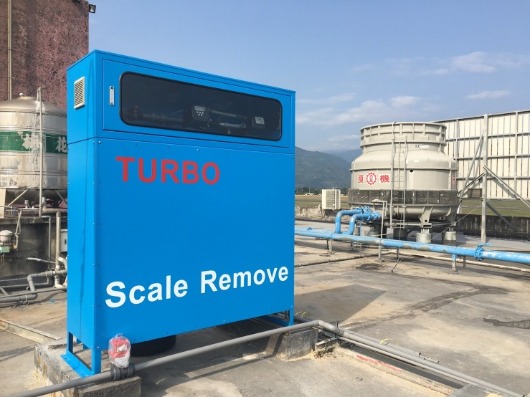 Who are we?
We are a water treatment company in Taiwan holding our philosophy to make effective solutions to you and eco-friendly to our environment.
Our water treatment equipment has done tested in Taiwan before delivering to your countries. All you need is to activate the systems by connecting the power at your local plants.
We also attach operation videos for your convenience of training. If needed, our engineers are on service to instruct overseas.